Veteran pair claim Round 3 honours

12/04/2017 8:55 PM ET

By Sam Finn / TheABL.com.au




Aussie veteran David Kandilas and former big leaguer Mark Hamburger both had outstanding weekends in the ABL, and have been rewarded with the Delta Airlines Players of the Week.

David Kandilas has been one of the most consistent hitters in the league since 2010 (lifetime .284 BA) and is the lynchpin of Canberra Cavalry lineup.

Kandilas lead the Canberra Cavalry to a series win in Adelaide, with nine hits and six RBI in four games, including a four hit, three RBI performance in the Cavalry's extra innings win on Saturday night.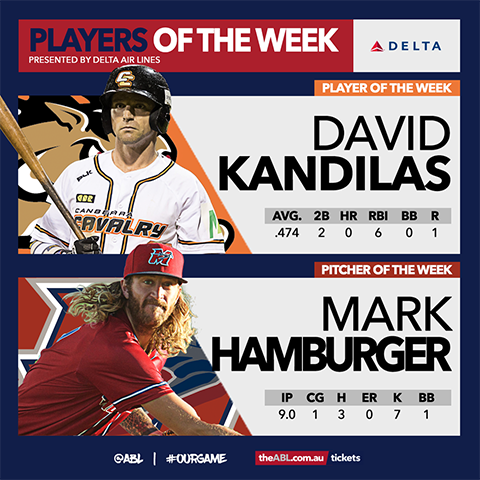 Form is temporary, class is permanent and Melbourne's Ace Mark Hamburger found his groove in the Aces' win against the Brisbane Bandits.
After two shaky starts, Hamburger tossed his first complete game shut-out of the season against the defending champions, striking out seven and only allowing three hits in nine fantastic innings.
Hamburger and Kandilas will face off in Round 4 as the Melbourne Aces take on the Canberra Cavalry in Canberra.