2019 Heaters Abroad: Edition 3
Who's striking out batters left, right and centre? Who's finding the home run fence? Find out in Edition 3 of Heaters Abroad!
04/24/2019 4:04 AM ET
Join us for the third edition of Heaters abroad!
Major League Baseball
Strikeouts, strikeouts, strikeouts. Oakland Athletics pitcher Liam Hendriks' strong 2019 season continued as he struck out five batters in 2.2 frames against the Toronto Blue Jays this past week. The right-hander has 13 punchouts over 13.1 innings and owns a 2.03 ERA.
Mychal Givens lowered his season ERA to 4.50 after giving up one run across 2.2 innings for the Baltimore Orioles. The reliever even struck out a pair of batters against the Tampa Bay Rays.
Minor League Baseball
Despite playing just six games so far this season, Pete Kozma has impressed in a small sample size for the Toledo Mud Hens (AAA Detroit Tigers). 'Kozie Kozie Kozie' drove in four runs on three hits in his last game and is hitting .364 on the year.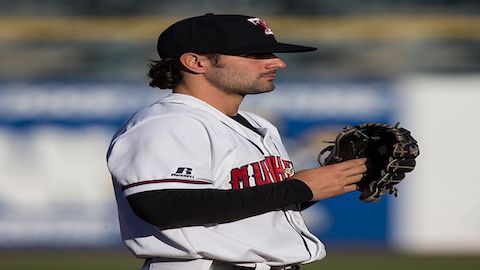 The man's on fire. It's as simple as that. Mike Brosseau's seamless transition into the Durham Bulls (AAA Tampa Bay Rays) lineup continued this past week as he drove in seven runs across six games. The 25-year-old is hitting .345 with three home runs and 17 RBIs.
With a pair of multi-hit games under his belt this week, Tristan Gray saw his batting average of .237 remain the same for the Montgomery Biscuits (AA Tampa Bay Rays). The 23-year-old did, however, pick up his second homer of the year and drove in seven runs as an everyday player.
Chris Clare was placed on the seven-day injured list by the Bowie Baysox (AA Baltimore Orioles).
Despite hitting .300 across nine games with Altoona Curve (AA Pittsburgh Pirates), Robbie Glendinning was assigned back to the Bradenton Marauders (A Pittsburgh Pirates). In two games back in A, the 23-year-old is hitting .286 with a homer and four RBIs.
After picking up four hits across his past five games, Jake Fraley saw his season average drop to .262 for the Arkansas Travelers (AA Seattle Mariners). The former Helms Award winner stole a base and drove in a run.
Carl Chester went 4-22 this past week to lower his season average to .267. The 23-year-old also drove in a pair of the runs for the Charlotte Stone Crabs' (A+ Tampa Bay Rays).
After a tough start to the 2019 season, Garrett Whitley clicked into gear this week for the Charlotte Stone Crabs (A+ Tampa Bay Rays). Whitley is hitting .300 with a home run over his past 10 games to increase his average to .220.
On the other hand, fellow Charlotte Stone Crabs (A+ Tampa Bay Rays) teammate Zac Law's tough season continued as his season average dipped to .154 through 12 games.
Chris Betts mashed three home runs this past week for the Bowling Green Hot Rods (A Tampa Bay Rays). The 22-year-old also drew six walks and drove in six runs.
Playing his first full season with the West Michigan Whitecaps (A Detroit Tigers), Ulrich Bojarski had two multi-hit games this past week whilst driving in five runs. The 20-year-old is hitting .288 on the year and was one of a handful of Whitecaps players who visited a local hospital to spread cheer during the week.
Korean Baseball Organisation
Warwick Saupold endured his toughest start for the Hanwha Eagles to date - giving up 10 earned runs across four innings against the Samsung Lions. Wazza now owns a 5.80 ERA across six games.
Dutch League
Nick Veale was tagged with his first loss for the Twins (Hoofdklasse Honkbal) this past week. The 26-year-old gave up six runs across six innings as the Twins lost to the Hoofddorp Pioniers.
This story was not subject to the approval of the Australian Baseball League or its clubs.