Australian CPBL team talks progress
Vale submits official expression of interest
09/04/2018 1:50 AM ET
Baseball Australia CEO Cam Vale has formally submitted an expression of interest to Chinese Professional Baseball League Commissioner Mr. John Wu for an Australian team in the CPBL.
Speaking in front of a large media contingent at a press conference in Taipei City this morning, Vale confirmed the formal bid had been submitted.
"Our goal is to have an Australian team participate in the CPBL's minor league in either 2019 and 2020, with a view to enter the CPBL Major League in season 2021," Vale said.
"Our team would be based in a Taiwanese city, and would consist of around 25% Taiwanese players to accompany the Australian talent.
"This would showcase the CPBL as a truly international league, and would continue to enhance strong trade, business, and government relations between Australia and Taiwan."
Vale was impressed with the Lamigo Monkeys game he attended on Saturday night, as relationships between Baseball Australia and the CPBL continue to grow.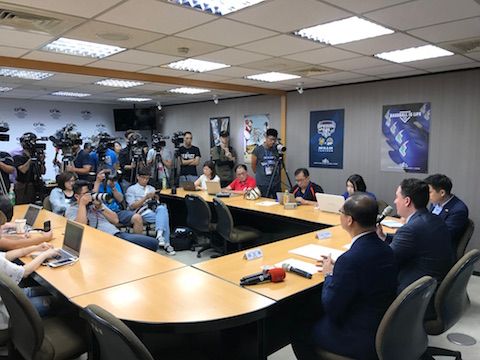 "Commissioner Wu and I have engaged in constant communication for nearly 12 months, and we have had significant support from Austrade in Taiwan and the Taipei Economic and Cultural Office in Canberra," he said.
"We are excited to present our proposal to the CPBL's four teams, as we continue to build on our ever-growing Australia-Taiwan relations."
Vale attended and presented at the 32nd Joint Conference of Australia-Taiwan Business Council earlier in the week.
The next steps in the process over the coming months will be:
Present to the current CPBL teams
Review options for a home city in Taiwan
Securing financial support for the project
Receive formal ratification from the CPBL and the CPBL Teams
This story was not subject to the approval of the Australian Baseball League or its clubs.